LightSpeed Individual Open Buzzer Quiz 2017 02
Tournament 2, Dirty Dick's, Halifax
Debs and Mark nailed the hypothesis that the new format is far superior, with two setters it really makes for a smoother more enjoyable event. A great Carry On set from Mark Preston, and the QU12 make this a complete afternoon's quiz
The release dates for the films are
LightSpeed Quizzes every Monday at 8:30 PM, this month's start on 27th March and the next three weeks.
The QU12 on 12th March at 12 noon
The Special will be released on August 1st, 2018, to commemorate 60 years of Carry On films. (I know, it's a long wait!)


QU12 2017 heat 2

SPOILER ALERT: This month's fest saw Dave Bill's incredible debut and the return of Lee Warburton, the Oracle of Drighlington. Dave and Lee are highly exprienced quiz players, and once they had settled down they completely awesomed. They did not win everything, so watch the films to see what happens, but once again, more stars have been added to our pantheon!
Provisional scores and standings


LightSpeed Quiz 2017 Tournament 2 results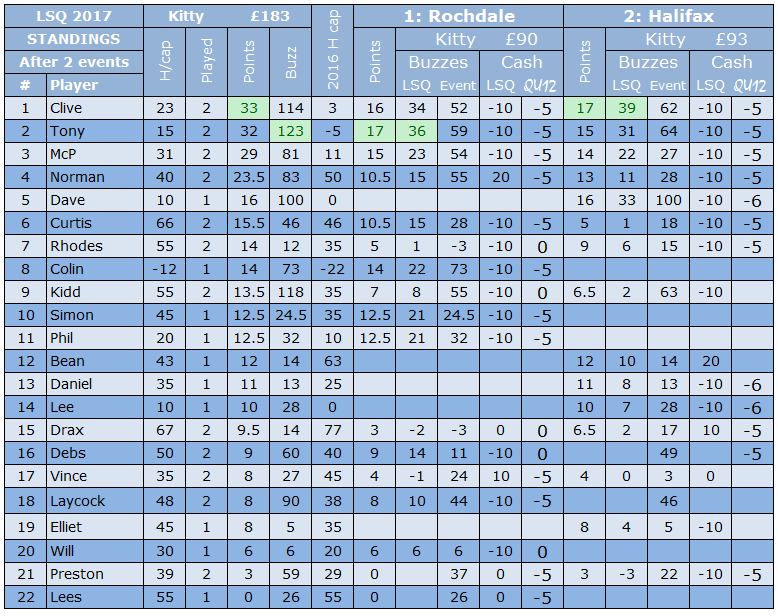 LightSpeed Quiz 2017 standings after 2 events


---
Next Event:
LSQ 2017 03: Market Tavern, Thornaby-on-Tees, 25th March
Please come along and join us on Facebook