Mastermind 2003 - By Steve Kidd
Filmed Monday 15th, Broadcast Saturday 20th, November, 2004

The TV programme and the appearance of the author upon it.
Don't ask me how, but I have ended up on Mastermind. Yep, I'll say it again, Mastermind, on its return to the BBC after several years absence from terrestrial TV. I assure you, I feel the same way most people feel about it, i.e. that it is not for people like me, nevertheless it's Thursday morning the 12th June 2003, and eight months after the gong went on University Challenge (UC) here I am jumping around my house like a mod on a hundred leapers impatiently waiting for 7:30 tonight when I film the show in Manchester.
How did this come about? During and after UC, I started dabbling in quizzes. James (Webb, my UC captain) told me to enter 15:1. I applied a long time ago, and coincidentally got my trial earlier this week. I also started receiving emails from web rings about UK games shows, and one of them invited contestants for Mastermind, so I applied. After a few (not many) 'phone calls and emails I did a test, over the 'phone, and must have done quite well, as about six weeks ago I was invited on the programme. Right before my final exams at Leeds! My specialist subject is 'The Who' and I have spent the last three weeks re listening to the albums and reading about the greatest Rock and Roll band in the whole world ever (after a twenty year gap).
If I get through the first round my other subjects are Star Trek: The Next Generation, and British Birds. If I get knocked out, for the first time in four years I have nothing to think about; If I get through I'll be watching six Star Treks a day.
By coincidence this series of Mastermind is filmed at the same place as University Challenge (Quay Street, Manchester). My attitude was entirely different. Though very excited, I slept like a baby and was ecstatically happy about the whole thing (because it was such a surprise to be on). The day before I was due to film I went over to watch the first shows being made. Gentleman John Humphries is the new host and saw two games, which filled me with glee because I realised that the general knowledge rounds were forced to throw up some gettable answers. I will write more about the results after the shows have been screened, but I'm afraid I can not pre-empt any results (Though I can promise you, there was one awesome score and I would hazard a guess at the biggest margin of victory ever).
On Thursday 12th July 2003 I picked me old mate Lee Warburton up from Bradford at 4:00 P.M. who quizzed me all the way over, while I realised I knew a hell of a lot about The 'oo. The only trouble with Lee is, he has the edge over me at general knowledge and I said to him "There will be a question I fail on that you will know the answer to". I was right (natch.), but it must be frustrating for him to listen. Sorry Lee, but you really should enter.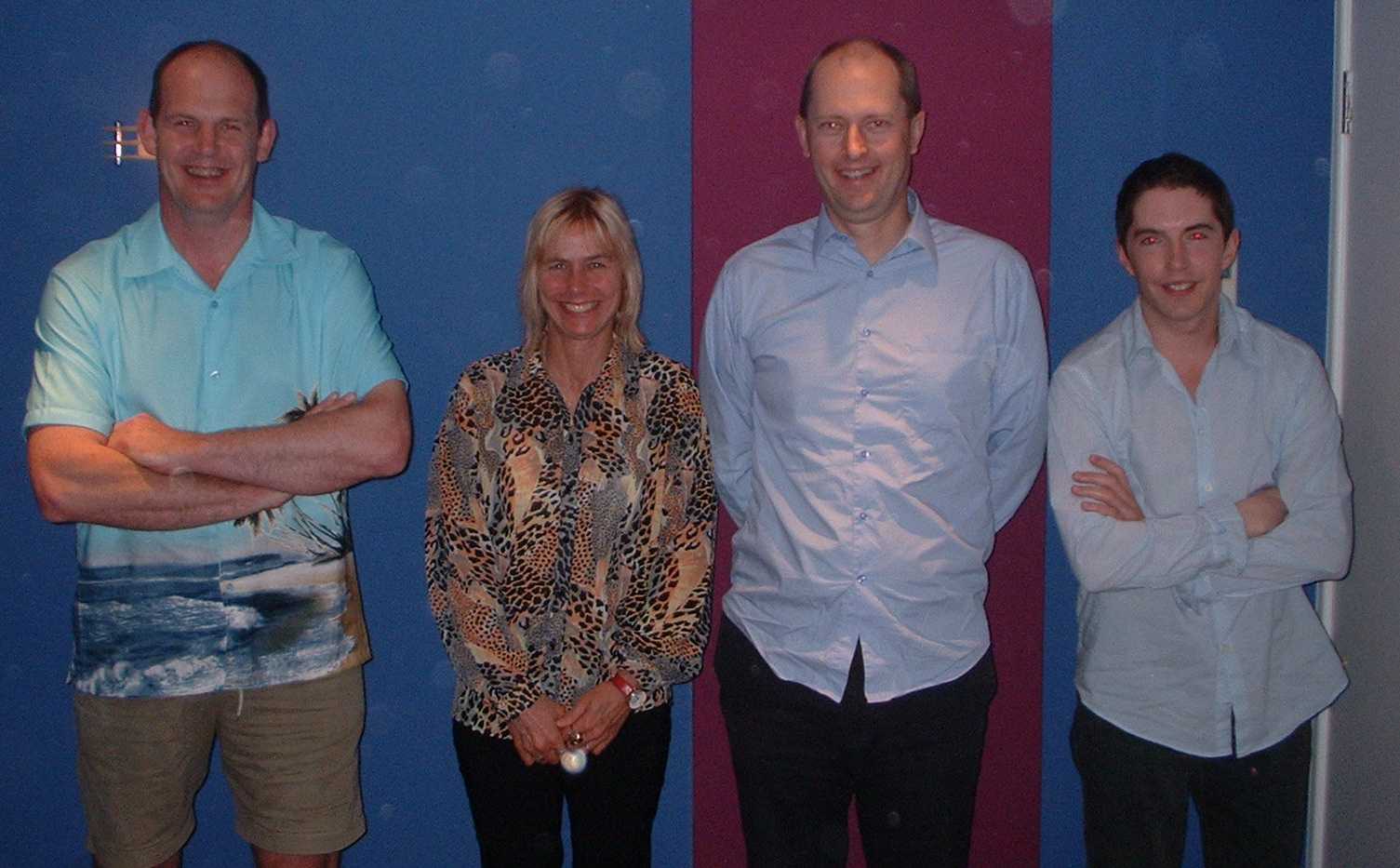 We (i.e. Steve (the Simpsons), Cath (The Emporer Nero), Chris (Laurie Lee) and Me (The 'oo)) were the last foursome of three to be filmed, so we met the other guys who were participating. Again, details may be filled in later, but nevertheless we all seemed pretty jolly, despite three quarters of us getting knocked out (one game had only three points spanning the contestants).
Yes, I was like a cat on a hot tin roof, but the food in the green room (where we wait) was superb, and I really felt I enjoyed being with my 'rivals'. It felt more like a unit than four individuals, and I hope they keep at least email contact.
In order of appearance, Steve was from Manchester, doing the Simpsons and was young and quiet, Kath was from down south, doing Nero and appeared to be, like me, happy and excited, Me etc., and Chris, who gave the impression of being in control and without being in any way cocky exuded the air of somebody who should be favourite to win. If you guys are reading, it was a pleasure to be with you in a time of such stress. Not only were you smilingly tolerant of me, but I am pretty sure you agree we were a team, not adversaries.
About 8:30 P.M. after make up and miking we sit down in front of the audience on the simple but dark set. Steve went up first, the lights sank and he was the man. Phew. He must have reeled off ten straight answers on Springfield's finest without flinching. I always said I would settle for five on each section.
---
Up to this point text was written more or less immediately after the event. From hereon it was written after the screening of the programme, on the 1st September, some 3 months later. As it transpires, Steve didn't get ten straight, but it sure seemed like he did. He ended up with 10 points all told for 'The Simpsons' and looked cool on telly. One of his questions, about the Be Sharps' first album was a rotten one; he named the best album title, 'Bigger than Jesus', which was their second. I'm sure he regrets not getting 'Springfield Isotopes' for the baseball team (we all remember their classic game against the Shelbyvillians).
Cath was next and she looked nearly perfect on the Emperor Nero. 14 is a good score and her pronunciation was flawless on some protracted and complex answers.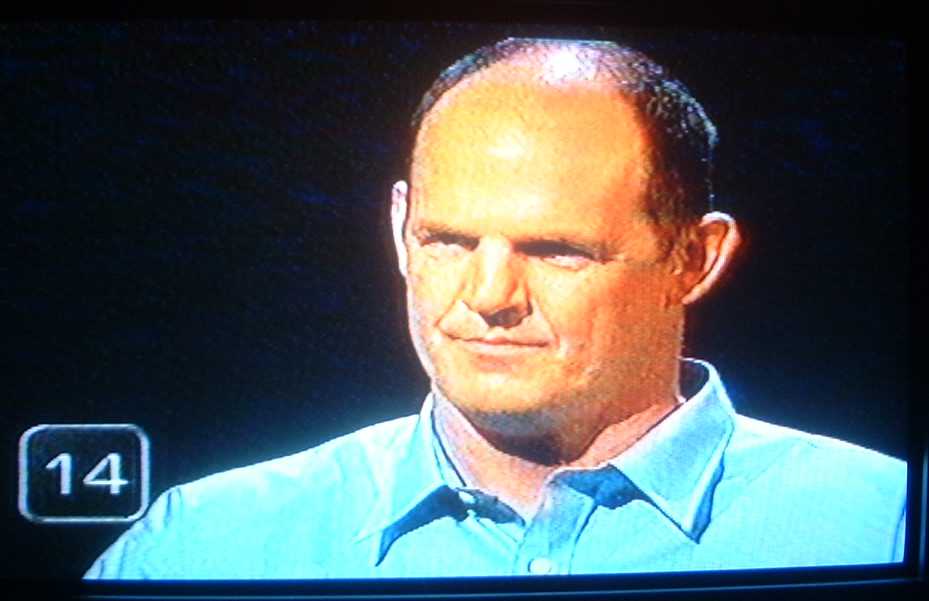 So, some of you may ask, what is it like sitting in the chair and being asked questions on Mastermind? I am pretty sure that I loved it then, and my affection for it now is not tinted by hindsight. My claim to fame is that mine must be the shortest specialist subject title - five letters - "the 'oo" What does change with time is the certainty that you knew all the answers! I bet there isn't a whole heap of people who go on TV quiz shows and say "Well I was lucky there, I really think I should have done worse".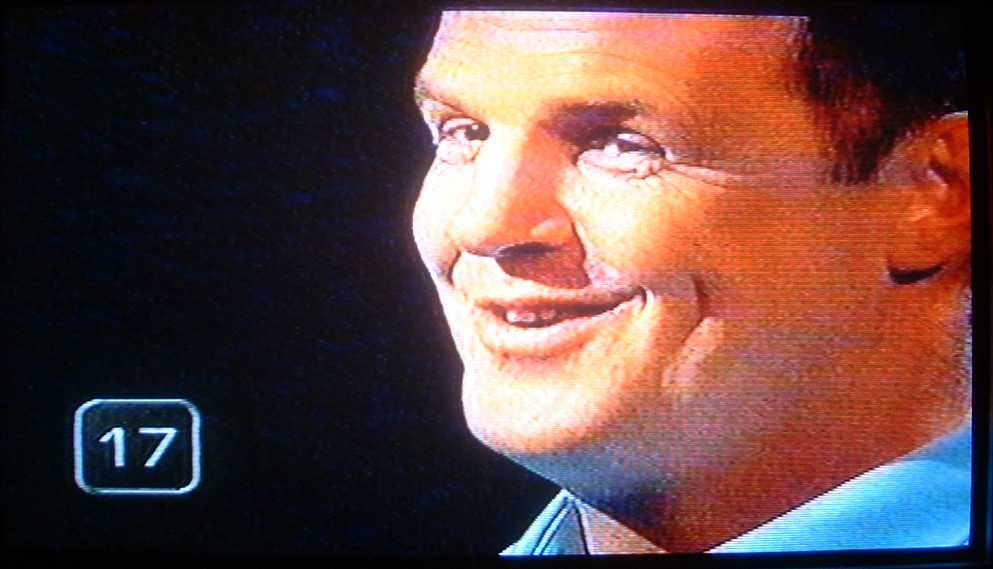 The specialist questions were highly enjoyable (Though I swear to God I didn't hear him ask for Pete's wife's name). I had certainly come across all the answers before and I especially liked the 'Behind Blue Eyes' question as I had to stop and think about it. When I finished my General Knowledge I thought that I had had a tough set, but I realise that it seemed bad because my 50/50s all went the wrong way (Brandt/Kohl, Thyroid/Pituitary, Platoon/Full Metal Jacket). I could have kicked myself for not guessing at a soft toy, and Peter Sellers is I'm sure a case of not listening to the question. Due respect to the question setters, as both my sets of questions were fantastic, I thought they were perfectly pitched to find out how much I could recall about the subjects while in the chair.
Anyway, here are my questions. If you want to test yourself just put a book or something over the right hand side of the screen.
Specialist Subject: The Who
My Answer
Actual Answer (if different
1
At which early regular venue in Harrow and Wealdstone did The Wh..
The Railway
2
On 'The Who put the boot in' tour at which football stadium did the group perform at 120 decibels making it the loudest performance to date of a rock band in concert
Charlton Athletic/The Valley
3
Which song did The Who record for the 1991 Elton John and Bernie Taupin tribute album 'Two Rooms'
Pass
Saturday Night's Alright for Fighting
4
At which London club did The Who hold the official press launch for their album Tommy in 1968
The Marquee
Ronnie Scott's
5
What is Roger Daltrey's middle name
Harry
6
Which song from the album 'Who's Next?" contains the lines "but my dreams ain't half as empty as my conscience seems to be"
- Behind Blue Eyes
7
In 1968 Pete Townshend was introduced to the work of which Indian spiritual master, whose philosophy was to shape much of his work with The Who
Meher Barbar
8
Which record was the first, and so far only, single by The Who to reach the top 10 in the United States
My Generation
I Can See for Miles
9
In 1967 The Who recorded two Rolling Stones in protest of the imprisonment of Mick Jagger and Kieth Richards. One was 'The Last Time' what was the other
Under My Thumb
10
What was the name of the drummer Kieth Moon replaced in 1964
Doug Sandom
11
Which single by The Who ends with Pete Townshend shouting 'I Saw You' at the drummer, Kieth Moon
Happy Jack
12
What was the name of Pete Townshend's girlfriend who he met at art school and married in 1968
Kim
Karen Astley
13
In which city did The Who play their last concert of their 1982 North American farewell tour, an event that was filmed for television
San Francisco
Toronto
14
What was the name of the band Roger Daltrey invited John Entwhistle to join in 1962
The Detours
15
Which 60's group provided the high backing vocals for The Who's first UK hit 'I Can't Explain'
The Ivy League
16
What was the name of the first single released by the group when they were still known as 'The High Numbers'
I'm the Face/Zoot Suit
General Knowledge
1
The German manufacturer of Steif is particularly associated with the manufacture of which soft toy
Pass
Teddy Bears
2
Which gland at the base of the brain is particularly associated with growth and metabolism
Thyroid
Pituitary
3
Which Christian Democrat politician was finally ousted as German Chancellor in 1998 after 16 years in power
Billy Brandt
Helmut Kohl
4
Which South American country hosted the 1962 world cup
Brazil
Chile
5
Which Actor, who died in 1980, was married to Anne Howe, Brit Ekland and Miranda Quarry
Pass
Peter Sellers
6
In Texas history, which siege ended after 12 days on 13th march 1836
The Alamo
7
In Greek Mythology, which monster was locked up in the Labyrinth built by Daedalus on the island of Crete
The Minatour
8
Helvetica, which appears on its stamps was the Latin name for which country
Greece
Switzerland
9
Which astronomical unit is equal to 3.26 light years
Astronomical Unit
Parsec
10
In the RAF which rank is immediately below that of Wing Commander
Pass
Squadron Leader
11
The old county of Westmoreland is now incorporated in which county
Cumbria
12
Who composed the so called Anthony variations on a tune by Haydyn in 1873
Pass
Brahms
13
Which 1987 film about the Vietnam war was shot almost entirely in Britain at an abandoned Gas works at in London and a dockyard on the Isle of Dogs standing in for Vietnam
Platoon
Full Metal Jacket
14
A Thin layer of what substance is fused onto metal and other surfaces to give an enamel finish
Pass
Glass
15
Which Element has the atomic number one, having only one proton in its outer shell
Hydrogen
16
If Monday's child is fair of face, what is Tuesday's child
Full of grace
17
The name of which member of the grouse family is thought to mean 'horse of the woods' in Gaelic
Capercaellie
18
What, in the field of Road Transport do the initials MPV stand for
Multi(ple) Purpose Vehicle
Total: 18 out of 36
Well, that was that! I had done something I would not have dreamed about two years ago and, you know, I think I did OK. I'm sure that a few folk (including my great friend Lee Warburton who was in the audience) were sympathetically cringing for me when I dropped some answers! Darren Martin sent the kindest and most astutely perceptive email and hell, this TV game is getting to be old hat.
I might have been cheesed off if my fellow competitors had been complete palukas, but they were not, and we all agreed that Cathy was wicked in winning, though Chris was bloody close. - If you read this guys, well done.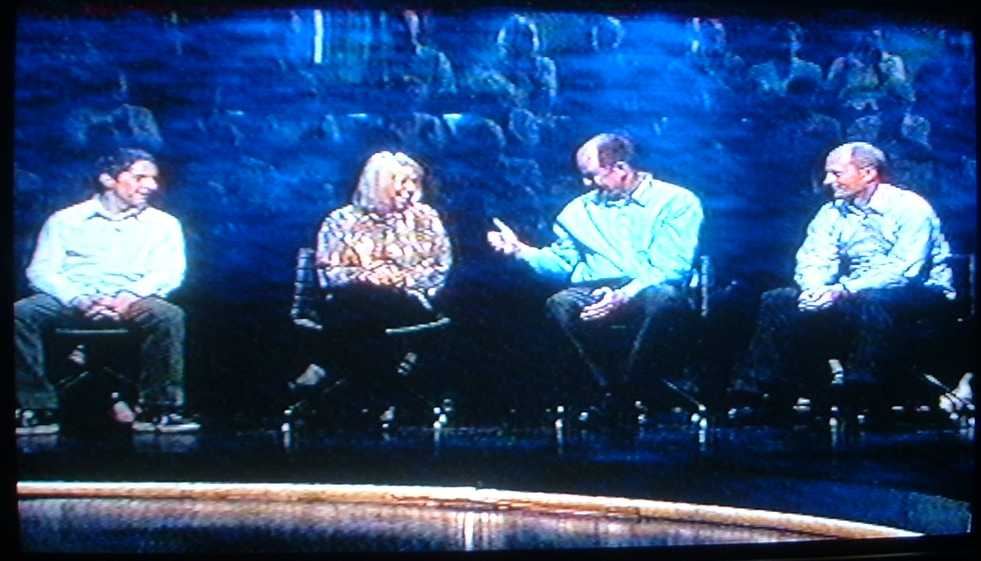 Concerning the 'dumbing down of Mastermind' debate, I do believe this will go on for ever, but don't ask me to select suitable subject matter. If someone wants to do American TV wrestling that's fine by me, on the few occasions I watch it I find it compelling and hilarious. As for 'The Simpsons' might I suggest that Shakespeare would have watched them and learned? Good for the BBC for putting Mastermind back on, and thank you for the opportunity to do it
I wish I could have another go though!