for them.

Cycle routes have not been classified objectively. They have all kinds of names (tracks/ routes/ paths etc) and all kinds of quality (all too often poor). From now on, we call them cycle routes, and give them a score between one and ten. The score will be given if the route meets simple criteria of safety and quality. If we can adopt a consistent system, it will perhaps be a useful tool against those who try to patronise us with substandard quality and safety. But I doubt it. This is too simple, straigtforward and easy to adopt.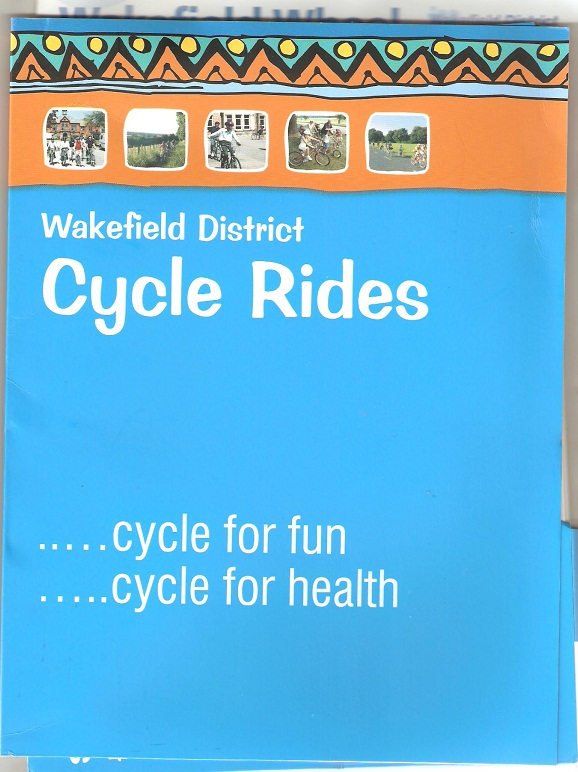 The cycle routes described so far are mostly in the Wakefield MDC area. Skip the bold text to avoid rant. In 1999 WMDC were producing a map of cycle routes. It was worse than useless, sending the hapless cyclist up non existent 'paths' and culs de sacs, getting wet, dirty frustrated and hurt. On July 18th 2010 I was given this folder by Uncle Tom's Wakefield Cycling Forum. It is a heap containing 68 pages and a fold out map. Look at the front - "......cycle for fun, .....cycle for health". Now, where you and I might differ is that though I do not dispute cycling can be fun and healthy, I actually would suggest ".... cycle to get from A to B safely and reasonably quickly" should be a sufficient persuasion. I would say that is by far and away the most important objective of promoting cycling. If WMDC and their favoured focus groups want to promote health and fun, why not Monkey Golf?, they certainly do not make cycling better. No. The reason for The Wakefield Cycling Forum, these maps and leaflets, and the platitudes presented by local government officers and elected members regarding cyling is to do the bare minimimum to promote sustainable activity (in order to enable the pretense they are 'green') whilst devoting the vast majority of their energies and resources to socially wasteful but selfishly rewarding consumption. On the first page of the cycle Forum's web site, the first partner is Wakefield Met. Five years ago I asked the Forum what had been done for cycling in Pontefract (The answer was nothing). The maps and routes contained in this literature indicate that NOTHING significant has been done to increase levels of cycling or walking, or reduce car use in this my beloved town. Things are worse. Shame on Wakefield Met and double shame on those that give WMDC the kind of endorsement which empowers them. Partners?!?!?!? Whatever next? Lars Vilks and Al-Qaeda? Pussies.
There are assessments of very good routes in Lancaster and York, and one in Leeds, but seventy of them so far are ones designated by WMDC on their map 'Cycle Routes in the Wakefield District' April 2000. This is far from an endorsement or recommendation of all these routes, and on many you will see the tip 'Use the Road'.
These routes, if not suitable for utilitarian cycling may have qualities as recreational, Mountain bike, or foot paths. There are some which are impassable, and a few which are actually good. If you disagree with the assessments please email me.
At the top of every page you will see the link bar, I hope you can figure it out!
Make my day; send me an assessment of your route.
Other cycling things:
Coast to coast cycling:
If you are planning a coast to coast bike ride in the north of England, you must read these pages. I have done four, with four different children, and the Morecambe to Scarborough route is the best by several miles and several thousand foot of climb. Trust me!